I was in a mood to relax and switched on the TV .I surfed through channels. I finally chose a movie. Before the movie started there were numberless ads. Somehow I tolerated them. The titles started rolling on the screen. Again another round of ads ! Oh God, it was too much. I could not bear it any longer. I am sure every one must have experienced this pain in the neck, while watching any programme on TV. Not only on TV, advertisements are every where, in newspapers, magazines, mobile phones, radio, roads,public and private transports, and even in blogs. How so ever we may try to evade advertisements, the companies come out with more novel and eye catching ones.
The ads are used to attract buyers. The firms utilise all sorts of gimmicks to attract the buyer. Some how the psychology is that pretty women , dressed scantly pull more buyers. This may be the reason that even products for men also depict women. It is very odd seeing women in ads for shaving creams, after shave lotion, men's under garments . This looks so ridiculous. The impression is that if the ads use sex, the sale of the product will go up.
There is so much competition in campaigning for every product. The companies try to make the ads very creative, so as to attract the consumer. The ads for tooth pastes, for example, are very confusing. One toothpaste company, for example advertises C advance, brite, sensitive, sparkling, for cavity, whitening etc. Who will not be confused!! Not to be left behind, another rival toothpaste goes for more adjectives as P germi check, fresh, center fresh, and many more.The poor consumer is taken for a ride!! Same alluring adjectives are used to define Shampoos, Body lotions, Creams and other products.
sandwiches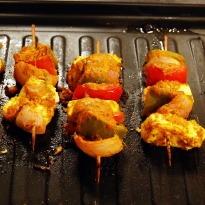 paneer tikka
Another sphere of adverts is the food items. How they show the burgers with such a shiny texture! Paneer Tikkas look yummy in ads. And the simple sandwiches are presented so amazingly.
burger
There are endless ads for mobile phones, each claiming to have multiple features. The consumer is at a loss, which one to select. Ranging from two thousand to one lac or even above, the advertising agencies are competing with each other to present their commodity above others.
The ready made garments also face tough competition. The fashions change so rapidly that the industry has to compete with the changing trends. The consumer is 'gheraoed' from all possible sources and keeps guessing which is the best. How do you like advertisements ? Do they help you to decide what to buy and from where to buy?
pics courtesy google