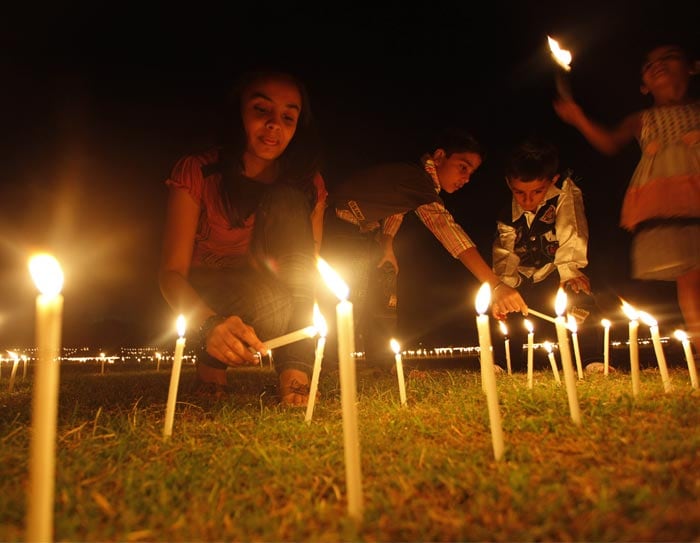 Diwali is a festival observed

throughout India. It is a festival which everyone looks
forward to. It is the festival of lights. All corners of the villages, towns and cities are
illuminated. It looks like a fairy land. This festival of lights is now celebrated in many other countries.
Like all other Indian festivals, there are legends associated with this festival There is
a belief that on this day Lord Vishnu married Lakshmi. In Bengal, it is dedicated to the
worship of Ma Kali. In Jainism it is associated with Lord Mahavira attaining Nirvana. It
is widely believed that Narkasur, a demon was killed by Lord Krishna

on this day.
Diwali also commemorates the return of Rama to Ayodhya after fourteen years, with
his consort Sita.
Diwali signifies victory of good over evil, knowledge over ignorance, hope over
despair, light over darkness and right over wrong.

Diyas are lighted outside as well
as inside the house. Shown below is the Ganesha corner of our house.
Diwali is associated with wealth. There is a belief that the doors of the house must
be kept open to welcome Goddess Lakshmi, Two days before Diwali, the festival,
Dhan Teras is celebrated. On

this day it is auspicious to purchase gold, silver or
diamonds. There is a belief that during Diwali, one must play cards, to be
prosperous.
In the morning all business men open new cash books and conduct Lakshmi Puja in
their offices/shops/work places.
Children light crackers and sparklers of all sorts. Some of these crackers are
deafening. But these multiple coloured crackers illuminate the whole
atmosphere.Bursting of crackers is being discouraged due to increasing pollution
spread by burning of crackers.
Rangoli is made in many houses. It adds to the splendour of other decorations. My little
grand daughter made the Rangoli shown below
The festival is a major celebration of flavors with feasts and numerous mithai (sweets, desserts),
as well as a festival of emotions where Diwali rituals bring family and friends together every
year. In our family all the brothers/sisters with their children meet in one place. One dish is
prepared by each family. Gifts are exchanged.
pic1 courtesy google