Today is the 14th day of the 'A to Z challenge of words. I am presenting the festival, Naag Panchami .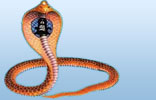 Nag Panchami is a festival which is celebrated through out India in the month of August. Snakes and serpents are worshiped on this day.Perhaps it is the inherent fear of snakes in the minds of men, which makes them worship the snakes.There are several myths associated with this festival. It is one the most ancient fasts which is observed by Hindus.There are a number of legends associated with Naga Pancahmi. One has it that on this day, while tilling his land, a farmer accidentally killed some young serpents. The mother of these serpents took revenge by biting and killing the farmer and his family, except one daughter, who happened to be praying to the Nagas. This act of devotion resulted in the revival of the farmer and the rest of his family. Since then, Nag Panchami has been celebrated in India. It is believed that in reward for worship, snakes will never bite any member of the family.
In mythology and ancient Puranas a reference has been made about snake worship at many places. In India, snakes are so much revered that temples have also been erected in their honor. There is a particularly famous one in Mysore, at a place called Subramania (Shesh naga). The Naga culture was fairly widespread in India before the Aryan invasion, and continues to be an important segment of worship in certain areas. After the invasion, the Indo-Aryans incorporated the worship of snakes into Hinduism. The thousand-headed Ananta is Vishnu's couch and also holds up the earth, while snakes play an ornamental role in the case of Shiva. Naga panchami is another form of honoring the snakes.
A snake temple,
On this day a fast is observed from morning to evening. Before the fast is broken,the deity is given a bath with milk and water.A person who prays to the serpents and observes a fast, is freed of any harm by the serpents. Many people also believe that when they are on fast, they must not till their fields, lest they hurt the serpents living below the earth.
I have been protected by snakes on a few occasions. I remember I was about eight years old. Once we went for a picnic. There were two more families. In the evening, while waiting for the drivers to bring the cars, all the seniors were engaged in some discussions. Suddenly I felt something slimy under my shoes, as if I was standing upon soft rubber. I bent down and tried to examine the object. By chance, my mom saw me watching intently at something. She immediately pulled me aside and became hysterical,a snake, a snake,she was shrieking. The snake was in a coiled position. It just moved, became straight and slowly moved towards the opposite direction.
There was another occasion when I had a similar encounter with a snake. I was a grown up girl of twenty years old. We were in Dehra Dun. We were all sitting in the lobby, engrossed in some silly conversation. Our pet dog, Tinky was there too, but tied with his leash. My brother noticed that Tinky was staring, with his head bent down under my chair. He called Tinky ,but Tinky did not even raise his head. My brother bent his head down and raised an alarm.There was a snake under my chair, with its hood erect!
Words 350
Pics courtesy Google