When I was small I studied in a Convent School. The prayer which we recited is still etched in my mind.The following prayer is so deep rooted that I can never forget it.
Our Father, which art in heaven,
Hallowed be thy Name.
Thy Kingdom come.
Thy will be done in earth,
As it is in heaven.
Give us this day our daily bread.
And forgive us our trespasses
For ever and ever.
Amen
Being a Hindu, this prayer is always in my mind.A sincere prayer, which comes from the heart recited in any language, or pertaining to any religion gives solace and alleviates our mind. After all what is a prayer. It is our conversation with God to thank Him for His mercies and to seek His blessings. We pray to God to solicit His grace and kindness for us and our near and dear ones.
There are various methods by which we pray. Different religious institutions propagate different forms for seeking the kindness of God Almighty. But one thing common to every religion is that we must be kind, truthful, sincere, earnest and righteous towards all living beings. The teachings of every religion is similar.Whether we go to a church, a temple,a mosque or a gurdwara the same God is omnipresent.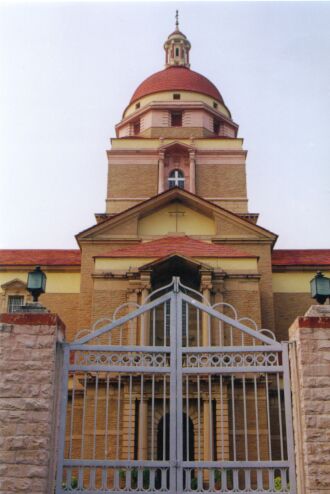 Church of Redemption, Delhi
Rakabganj gurdwara Delhi
Jama masjid, Delhi.
Guruvayur temple, Kerala
Prayers can be performed in different ways. We may read from the scriptures or recite it. We may sing or chant spontaneously as we pray. There may be musical accompaniment with it.A prayer must come from the heart. Whereas we may pray for one hour, but still may not be praying, but if we pray for five minutes with sincerity, it will have an lasting effect and will be heard by God.You must have seen in movies an old lady, with a mala in her hand praying, but actually not concentrating, giving instructions to the family or the servants. Prayers may be offered mentally as meditation.. Often, there are prayers to fit specific occasions, such as the blessing of God for some significant events in the life of a believer, or on days of the year that have special religious importance.
God is one .He is the only supreme power. The power of prayer is such that it transforms the complete personality an individual. We all know that Maharishi Valmiki, a wayside robber,became a great saint just by reciting the name of lord Rama. The power of prayer is real and palpable.It can be felt by an individual. This in it self is a gift bestowed by Him.God cares for us. We too should ,on our part be steadfast in our devotion.
God knows us well.Every
thought, every action and every deed performed by us is known to Him.
We can therefore go to Him and bare our heart to Him.Some people approach god with an ulterior motive. They offer 'bribe' in return for the mercies that they demand. He will shower His blessings only if one deserves them. He is all powerful and can gauge our feelings and emotions without our asking.
I am a firm believer of God. I feel that He is protecting me and my family. I vividly remember that during my cancer surgery His presence was with me. The dazzling lights of Heaven and His protective hands raised in blessing me, were not only comforting but engulfed my whole being in His tender fold.I surrender to God Almighty in all humility.
In this week of Merry Christmas I pray to God to shower his grace and kindness on all beings. I wish all my friends a merry Christmas.
pics courtesy google
..
.
Reposted for BAR on26 .01.2015