Journey to Palakkad from Chennai
When we reached Olavakode It was midnight. At that hour no conveyence was available. Taxi service too was not possible because it had to be booked in advance. A shuttle train to Puddunagaram was likely to reach at 2 am. There was no option but to wait for that train. We spent the time in the retiring room of Olavakode station. At 2 am the train arrived.It was an apology for a train. There were no window panes, the wooden seats were shaky and a stinking smell pervaded in the train. It reached Pudunagaram station at 5 am.A distance of about 20 kilometres was covered in three hours. From Pudunagaram, Tattamangalam is only five kilometres away. At Pudunagaram a bullock cart was waiting for us. I was very excited that we would complete the rest of our journey in the Bullock cart. We were carrying a lot of luggage.The luggage and and both of us with the baby managed to sit with some difficulty in the Kala Vandi(Malyalam for Bullock cart) As the Kala Vandi moved the driver uttered the word 'Moorhi, Moorhi' every five minutes . I was puzzled. I asked my husband what does it mean. He told me that it means the bull. The morning sun was rising in the eastern horizon. Cool breeze was blowing which not only refreshed us but but the ordeal of such a long travelling was forgotten. As we proceeded the sun rays gleaming in the paddy fields brightened them like gold. As we were nearing the house I was apprehensive in which language I would converse with my Mother-in-law.My Hubby ,sensing my discomfiture, consoled me that my fears were completly unfounded. From a distance he showed me the Madassery house.It looked like a fort. I was awe striken. Soon we reached there. A big gate,with the name of the house,S.S.Greenfields,carved on one side and flowers and twines in the forecourt looked very impressive. My M.I.L. and all the other members of the family were waiting for us. I noticed that there were no words like Namaste or Welcome used by any one but a broad smile on each face was indicative of the warmth and affection on all faces. Muthassi(grand mother) took us to the family diety Muniappan,to seek His blessings.
Even though no conversation was exchanged between me and Muthassi, our gestures and smiles were enough to indicate that both sides liked each other. She was a very noble and pious lady. She was universely liked by the workers. She managed the affairs of a huge estate single handedly. Whatever Malyalam I acquired was only because of my desire to converse with her in Malayalam. My elder Bro-in -law and his family were there.They all could converse in English .
Tattamangalam Days
Tattamangalam is a sma

ll

township or can even be called a big village. It is about 22 kilometres from Palakkad.It is on the North of Kerala,almost near the Tamil Nad and Keraia border
Hence the languages spoken here are Tamil and Malayalam.The landscape is beautiful with the Western Ghats over looking the town. At night from a distant temple a bright light could be seen ,which lent an aura to the town.Those days there was no electricity in the town.The lamp posts on the main road were lit with kerosine.Inside the house too kerosine oil was used to lighten the house. There was no sewer, hence there were no toilets inside the house. The wash room was away from the main building.At night it was pitch dark.The sounds of several insects along with the breeze lent a supernatural effect .First two nights I was frightened by all the vague sounds and could not sleep.

Morning breakfast was Idli, which was as soft as cotton wool. The Sambaar, the ve
the neighbourhood came to meet us. They addressed Muthassi as 'Thambratti' which means 'your Highness'.The women folk kept staring at me,It was for the first time they saw someone from a metropolis in their village. They were amused seeing me in sleeveless blouse and lipstick and speaking English.
We went round the fields.It was my first experience.I found every thing awesome.From Tattanangalam we went to Palode, which was the Madasseri Taravad(ancestral house). Inside the house were displayed the age old guns and armours. Their ancestors were warriors. A family temple is aiso situated close by. The ruling diety of the temple is Lord Karuppaswami. The whole area emits the flavour of insense and holy dhup.
After staying in Tattamagalam we moved to Calicut,Guruvayoor and other places. The visit to these places will figure in part 3.
Part3

Visit to Kozhikode
Before I proceed with the next part of our journey I offer my salutations to the family

d

eity, Bhagwan Sri KaruppaSwamy

.
This a very ancient
temple.
Successive generations of
family members

have been the beneficiaries
of Go

d's grace.
Pujas have be

en

regularly

held for several deca

des

.
After staying in Tattamangalam for about ten days we left for Calicut (now Kozhikode) by train. Muthassi also accompanied us. From the train we could have a glimpse of the eye catching scenarios of the country side. It is not for nothing that Kerala is known as 'The God's own country'. We could see the plush green paddy fields, with women working in

them.
(Courtesy google)
In this photograph we see

women transplanting rice seed

lings in a paddy field.
(courtesy google)
Here we find fertilisation of rice. The natural greenery looks like a plush green carpet.
Throughout we could see such captivating scenes.Another peculiar scene through out was a crowd of people.We cannot find any deserted piece of land. After every few minutes we find long lines of children either going to school or coming back from school. It is not surprising that Kerala is the most literate state of the country. We find more women than men in the fields as well as in the streets. This is the

only State in India where the ratio of women is more than men.
At Calicut station my Brother -in-law was present to

receive us. Their house was situated near the Beach.

T

he burn of our son had not yet healed . A do

c

tor had to be consulted

. He was given injections.We used to go the Beach every evening.
This is a picture of my hus

band and son at the Calicut Beach.
At Calicut a grand reception was hosted by the editor of a popular

Malyalam Newspaper

in our honour. More than hundred people were invited.News of our marriage had already appeared in some Malayam Newspape

rs.

W

here ever we went we were faced with same questions

,'where and how we met,''how did we adjust with food''in which language did we converse' and so on. We were in Calicut for ten days.The next halt in our iternary was Guruvayoor.
Visiting Guruvayoo
r
Guruvayoor is a famous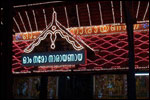 (courtesy google)
Sri Krishna temple. It is known as the Dwarka of South.The deity here is of Maha Vishnu. A visit to Kerala is incomplete without having a Darshan o

f Guruvayoor Appan. We also visited the other temples in the vicinity of Guruvayoor.
Back to Tattamangalam
After the pilgrimage we returned to Tattamangalam. The time had passed so fast that we did not even realise we had to go back to Delhi.We took

o

ne last photograph of the place near the well. The day

of departure came. Muthassi was very particular
that nothing

a

uspicio

us

should start at Rahu Kalam.Whether it was a superstition or not we had to respect her feelings. It so happened that our time to leave for the Railway Station had to coincide with Rahu Kalam.To circumvent this problem she got our luggage shifted to our neighbour's house thus signalling that

our return journey to Delhi had already commenced well be

fore Rahu Kalam!!

Departure was painful.We got so much love and affection in that period of one month which we

always cherish.