.
The next nine days
are devoted to the worship of the Eternal mother, which has its origins in the Vedas, Mata Durga. She is also considered to be a combination of the Trinity of goddesses. They are Saraswati, Parvati, and Lakshmi. During Navratri, these three main goddesses are worshipped .The central theme of Navratri is triumph of good over evil.
On the first day of Navratri, barley seed are put in a mud pot and watered everyday.On the last days when sprouts appear, they are distributed as Prasad. This ritual is called "khetri"People observe fast . Some have fast for all the nine days, and some for two days ie. the first and the last day of Navratri.The first the first three days are dedicated to Durga Mata. and her three manifestations, Parvati, Lakshmi and Saraswati.
People observe fast for nine days. In our family the tradition of fast is maintained.only for two days. The seventh day is conisdered day of Mata Saraswati, the goddess of learning.For small children it is a day to start studying. The child is made to sit in the lap of the father ,who writes the words 'Aum" on the tongue of the child.So now the child is officially fit to study. In the evening the children keep their books in the familly puja room. The books are worshipped for three days, upto Vijaydashmi.
On the eighth day ,Kanjak is celebrated. Small girls,dressed in their best dress are invited by neighbouring houses. They are welcomed by washing their feet and tilak applied on their forehead are given food by the family. They are given gifts by the family.These small girls are called Kanjaks.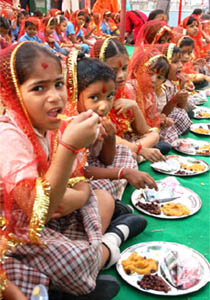 On the ninth day Goddess Saraswati is worshipped and the nine days festival comes to an end.
Written for Write Tribe Pro Blogger week 6 Day 55
pis courtesy google