I have always been a voracious reader. I always loved to read. Whether it was a Hindi book or English, whether a magazine, short stories or novels , I read every thing. Now when I sit and recollect my favorite authors, so many names are flashing in my mind , I cannot decide which ones to include and which ones to drop out. I am jotting down twelve authors,who have left a stamp on the mind and cannot be erased.
1. The first on my list is Thomas Hardy. I have read Tess, Mayor of Caster Bridge, Tale of two cities.and Far from the Madding crowd, Fate and chance play a major role in his novels
Thomas Hardy
2. Jane Austen: I loved to read her novels Pride and Prejudice,Emma and Sense and Sensibility.She generally wrote about women issues, like Love and marriage.She was one of the most widely read authors.
Jane Austen
3. Shakespeare is considered to be the world's largest dramatist, actor and poet. He wrote about forty plays. I have read Merchant of Venice, Tempest, As you like it, Comedy of Errors, and Hamlet. He also wrote sonnets, poems with fourteen lines.
Shakespeare
4.Mrs Sudha Murty is a talented writer. Her Novel Dollar Bahu, Mahasheta and Punyabhumi Bharat are some of the books I have read. Her simple style of writing is very appealing You feel you are having a real conversation with the author.
Sudha Murthi
5.R. K. Narayan is a very versatile writer.His Malgudi Days and Guide have made him immortal.He won the Sahitya Akademy award for Guide. Malgudi, an imaginary village,which is the destination of his writings is also known far and wide.
R.K.Narayan
6.Munshi Prem Chand is my favourite Hindi novelist. I have read many of his novels. Gaban, Godaan Bade ghar ki Beti and Nirmala. He was rightly known as 'Emporer of Stories''.
Munshi Prem Chand
7. Amrita Pritam.was a very popular writer of Hindi and Punjabi. She wrote novels and poetry with equal ease. Many of her works have been translated in to different languages. I had very little knowledge of Punjabi(gurmukhi). For sometime she was our neighbour. It was at that time I became interested in Punjabi. She presented me a copy of her book Pinjar,which is my great treasure. She got a Sahitya Academy Award for the book. She was the recipient of prestigious Awards like Bharat Vibhushan and Padma Shri, from Government of India. She died in the year 2005.
Amrita Pritam
8.Rabindranath Tagore was also a favourite author. I think I was in class 7th or 8th when I read a short story, 'Home Coming", a part of our English language subject. I loved many of his works but it was Gitanjali, which was,(and still is) my favourite book.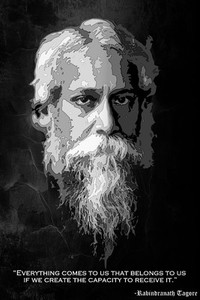 Rabindra Nath Tagore
9.Bernard Shaw was a famous writer of modern times. His writings depicted his pain for the exploitation lower classes. He was known more for his plays. his plays Pygmalion and Arms and the Man. I had written a review of Arms and the Man in M.A.
10. Charles Dickens. His works Pickwick Papers, A tale of two cities made him a writer for all times.
Charles Dickens
11 I love to read and write poetry John Keats is my favorite poet. He was famous for his romantic poems.His Poem Nightingale will forever remain fresh. Unfortunately he died young.
John Keats

12. Somerset Maugham was a famous writer for novels, short stories ,plays . He also wrote a few poems I liked the novel, The Razor's Edge.






Written for Write Tribe Pro Bloggers Week 5 Day 2.