Last week I had written about the qualities of Punjabis. Today I am proceeding straight to the Southern most State of the country, Kerala. Being a Punjabi by birth and a Keralite of more than half a century by virtue of marriage to a Keralite, I am fortunate that I am familiar with the culture, habits, languages and customs of both States.
On my first visit to Kerala, the thing that attracted me was its natural beauty. Lush green paddy fields, with coconut trees and mountains in the background are mesmerising. The title 'God's own country' is most appropriate.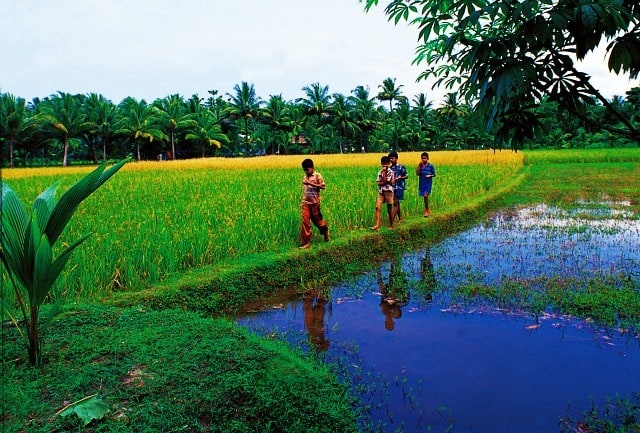 Malayali men are very simply dressed.
They wear a dhoti ,called Mundu.
It is used as a formal and informal dress. The upper part is cover with a veshthi. In rains the mundu is folded up to the knees. At night it can be converted as a sheet to cover
the body.
Women are also dressed in Mundu and Veshthi. They also wear a sari. On functions the ladies are decked with loads of ornaments and flowers.Ladies daily wash their hair. Hence most of the time their hair are not tied. One thing I find very amusing is that they address their husbands as 'Ettan' which is also the word used for addressing elder brothers.
A malayali wedding is a very simple affair. Unlike Punjabi wedding, no priest is involved.No mantras are recited. The bride and the groom go round a lamp three times and they are pronounced husband and wife. A traditional wedding feast, Sadya is a grand affair.
In Kerala 'matriarchal' system is followed. The ancestral property is the right of the girl. Unlike in other States the girl does not go to her in laws house after marriage. In fact the boy stays with his in laws. In ancient days when the wife did not want marital relations with her husband, she kept a vessal outside the house,which was an indication that he was no more welcome. This custom is now outdated.
In Kerala Onam and Vishu are important festivals. People decorate their home with flowers, known as Phukalam. An example is shown here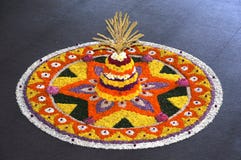 August is the month of Onam. Festivity is in the air. I am feeling nostalgic by the very thought of the upcoming Onam festival, next week. I remember that my Mother in law told me the story , how and why Onam is celebrated. It was very interesting how we two conversed with each other.I did not know Malayalam and she could not converse in either Hindi or English . Later on I did pick up the language and managed to talk with her. Her memory has prompted me to write this post and I respectfully dedicate it to my dear mother in law.
Kathkalli, a popular dance form is performed at different places throughout the State. An interesting thing about this dance is that the artists are male.They enact the role of females.
Another form of dance,Mohiniattam is very popular. It is a sensual dance. Kalaritayit is also a dance which only men perform.
Many men have gone for employment to Gulf countries which has a positive effect on the economy of the State. When I went there after my marriage and now when I went there I saw a world of change. The present day Kerala is as advanced as any other State. It can boast of development in all spheres.